This week marks three years since KeolisAmey Metrolink (KAM) took over as operator of the Greater Manchester tram network.
Despite the obvious challenges of recent months, KAM has continued to build on the success of their first two years as operator, and a number of big projects have been delivered that focus on improving the passenger experience.
March of this year saw the delivery of the Trafford Park line (TPL), a significant development – delivered months ahead of schedule against the backdrop of the developing coronavirus pandemic. The TPL launch was the culmination of a transformative Metrolink investment programme that has further opened up the Trafford Park area work and leisure facilities to the communities of Greater Manchester.
The past 12 months have also seen KAM continue to make improvements to further minimise network disruption – focusing on infrastructure, asset improvements and enhancements whilst maintaining a safe, reliable and frequent service for passengers.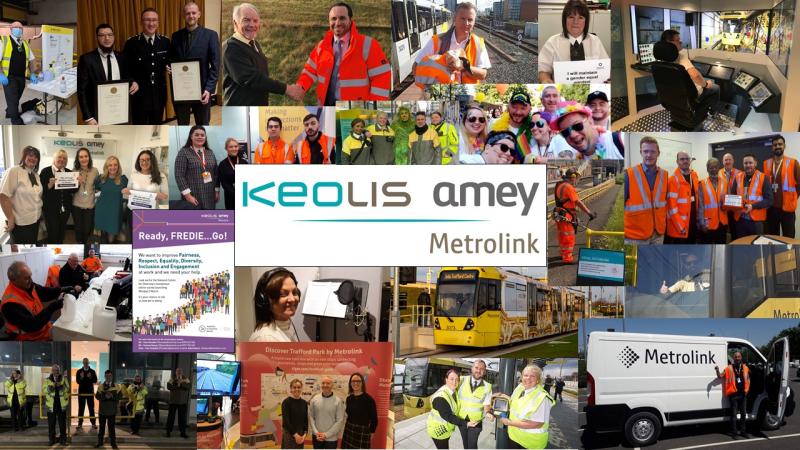 Testimony to these, and other improvements – in 2019, the number of annual passenger journeys across Greater Manchester's Metrolink network were recorded to have more than doubled over the past decade. TFGM figures show that the network grew from 19.2 million journeys in 2010 to 45.5 million in 2019, with more to come!
Alistair Gordon, Chief Executive of Keolis UK, said:
"A frequent, reliable and safe service is what Keolis does best, worldwide, and the work over the past 3 years in Manchester is testimony to that.

"To have achieved such consistently high levels of passenger growth across the Metrolink network is testimony to the hard work of our dedicated local teams and demonstrates our ongoing commitment to leveraging international best practice in our UK operations."
Guillaume Chanussot, Managing Director of KeolisAmey Metrolink, said:
"I am so proud at what we have achieved this year and throughout the recent crisis in particular. The way we have all risen to the challenge, while continuing to support each other, highlights how #TeamKAM is always at the heart of everything we do. I am confident that with such solid foundations we can face whatever the future may hold with confidence and continue to deliver the service the people of Greater Manchester deserve.

"We have a great team at KAM, and I look forward to continuing to work with our partners to ensure that our shared experiences over the past three years, and the latter part of this year in particular, translate into further improvements for our passengers across the region as we move forward."